↑↑ Click to watch the film ↑↑
JAN-JAN VAN ESSCHE - PROJECT#9 ' SUNU '
Clothing : Jan-Jan Van Essche
Film : Ramy Moharam Fouad, Jordan Van Schel
Music : Willem Ardui
Choreography : Sidi Larbi Cherkaoui
Shoes : Petrosolaum
by Jan-Jan Van Essche for the AW21 season.

from Jan-Jan team、PROJECT#9 "SUNU"のイントロダクション。
なかなかと訳すのが難しく、
自らの感情が入り込んでいる可能性がありますが、、
繋がりの感情を大事にしたコレクションという部分では、いち受け手として良いかなと。
デザイナーの想いを届ける少しばかりの手助けに。
-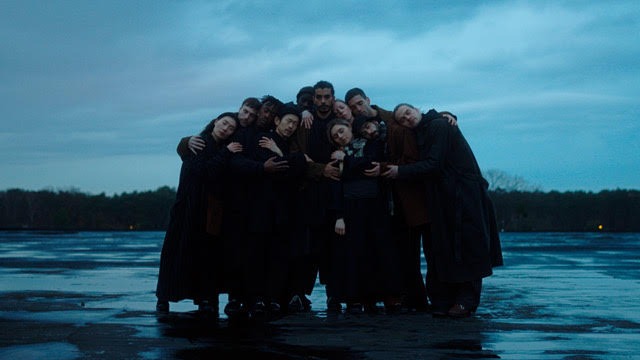 The collective idea SUNU, meaning 'our' in the Wolof language, summarizes the sentiment of unity, fragility and inclusive interconnectivity.

ウォロフ族の言葉で「私たちの」を意味する"
SUNU " コレクションのアイデアは、
儚さやお互いの繋がり合いを含んだ団結
という感情を要約したものです。
A sense of responsibility towards each other and what surrounds us. A solid bond, a strong connection, which needs to be cherished and praised but simultaneously guarded.
お互いに対する責任感は私達を取り巻くものであり。固い絆、強い結びつきは賞賛・慕うと同時に守られる必要もあります。
With the SUNU collection, the designer reaches out seeking resonance and forging alliances, longing for universal understanding.
SUNUコレクションを通して、デザイナーは共鳴/同盟関係になるべく手を差し伸べて普遍的な理解を求めています。
Utilitarian references in dialogue with fluent kimono shapes, staple Western garments translated to the classic Jan-Jan Van Essche silhouette.
功利主義(非現実ではなく実用的)な参照として淀みのない流れるような着物のシルエットと問答することから、西洋的なガーメントをヤン - ヤン・ヴァン・エッシェのクラシックなシルエットへと解釈しました。
High quality fabrics, ranging from in-house handwoven cloths to well insulating yak wool blends, from traditional Chinese mud-dyed silks to prime Italian vintage-like weaves.
高品質の生地達は、Jan-Janスタジオの手織り布から保温性の高いヤクウールブレンド、中国の伝統的な泥染めシルクやイタリアのヴィンテージライクなプライムウィーブスにまで及んでいます。

All merging in the muted and distinctive color palette, true to the Jan-Jan Van Essche wardrobe.
これらのすべてはJan-Jan Van Esscheのワードローブに忠実な、落ち着いた特色のあるカラーパレットに溶け込んでいます。

-